Today I'm linking up for Friday Favorites, here are some of my favorites this week.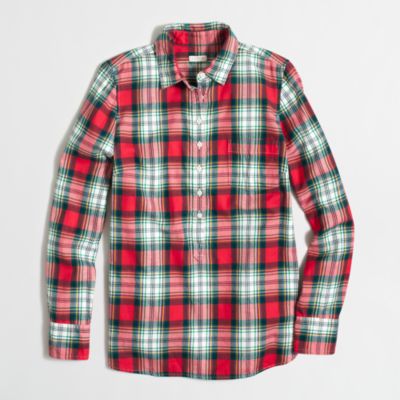 Mark was traveling for work last week so I took the opportunity to make a visit to the outlet mall. I got this plaid flannel shirt from J.Crew factory and I love it! I wore it with jeans and a gap puffy vest  to an outdoor engagement party on a farm and wore it with a skirt and a cartigan for work.
toms – Brown Leopard Classics
I love me some Toms!  Sadly the pair I took to Europe didn't survive Oktoberfest and my other pair should have been retired a long time ago, this forced me to finally order a new pair.  I went with these brown leopard classic, I can't wait for them to arrive!
Zulily – deal site
I shouldn't have discovered this site, I find at least one thing that I just have to have in their daily emails.  This is a members only discount site for moms, babies and kids.  I'm not a mom baby or kid but I love this site!
Elin Hilderbrand books
The past few weeks I have been obsessed with Elin Hildebrand's books.  I read the Blue Bistro and got hooked!  After I finished the Blue Bistro I read The Island, which was fantastic – now I'm on the Beautiful Day and so far I'm loving it just as much as the others!
Fall – The season and Weather
I love everything about fall.  I love the weather, the way the leaves change and how everything looks outside, the decorations, fall food, fall activites and the three fall holidays – Oktoberfest, Halloween and Thanksgiving!
Happy Fall Friday!